Poster award for Malvina Supper at SPICA 2022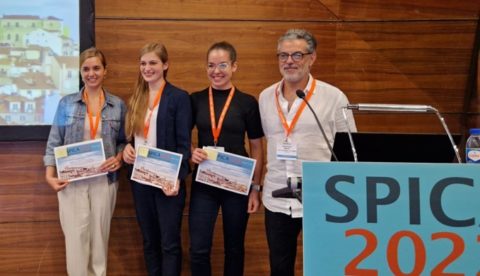 For her poster "Development of Preparative Chromatographic Processes for the Isolation of Pure PEG Homologs", Malvina Supper received one of three "Best Poster Awards" at the 18th International Symposium on Preparative and Industrial Chromatography and Allied Techniques (SPICA 2022, Oct 11-14, 2022) in Lisbon (Portugal). Congratulations!
In her work, Malvina Supper demonstrated how reversed-phase chromatography can be developed for isolating pure single homologs from molar-weight distributed polyethylene glycols (PEGs). Such monodisperse polymers are of outstanding importance for analytical and potentially medical applications.
More details can be found in our recent open-access pulication:
Malvina Supper, Kathleen Heller, Jakob Söllner, Tuomo Sainio, Malte Kaspereit:
Separation of Molar Weight-Distributed Polyethylene Glycols by Reversed-Phase Chromatography — Analysis and Modeling Based on Isocratic Analytical-Scale Investigations. Processes 10(11) (2022) 11
DOI: 10.3390/pr10112160
This work was supported by the Collaborative Research Centre CRC 1411 "Design of Particulate Products".